Bimbel Tes Masuk IUP FEB UGM
Materi Bimbel
1. GMST (Gadjah Mada Scholastic Test)
Verbal Test

Quantitative Test

Reasoning Test
2. ITP TOEFL
Listening Comprehension

Structure & Written Expression

Reading Comprehension
3. LGD (Leaderless Group Discussion)
4. Interview Test
*) Target ITP TOEFL score minimal 525
Target GMST Score minimal 600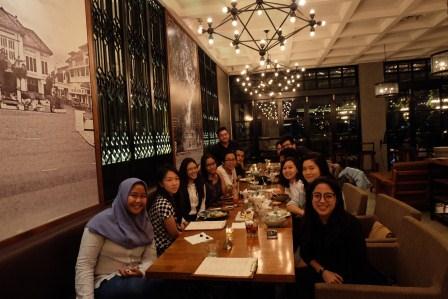 PROGRAM JAMINAN 100% UANG KEMBALI
DENGAN SURAT PERJANJIAN DI ATAS METERAI (RANGKAP DUA)
PILIHAN PROGRAM BIMBEL
1. PROGRAM EXCLUSIVE
Kelas kecil, maks 8 siswa per kelas

Ruangan full AC

Jaminan 100% UANG KEMBALI (di atas meterai rangkap 2)

Fasilitas modul, free TOEFL Prediction Test, try out berkala, simulasi LGD

Jadwal 2 - 3x sesi per minggu @ 2 jam
2. PROGRAM VVIP
1-on-1: 1 tutor, 1 siswa

Bebas menentukan lokasi bimbel (bisa di rumah / kost siswa)

Jaminan 100% UANG KEMBALI (di atas meterai rangkap 2)

Fasilitas modul, free TOEFL Prediction Test, try out berkala, simulasi LGD

Jadwal 3 - 5x sesi per minggu @ 2 jam

Jadwal: BEBAS & FLEKSIBEL sesuai dengan waktu luang siswa
Test Scheme
Test

Duration

Test Material

Day 1

Gadjah Mada Scholastic Test

120 minutes

verbal

quantitative,

reasoning

English Proficiency Test (EPT)*

120 minutes

Listening,

Structure,

Reading

Day 2

Group Discussion

Interview
IUP FEB UGM offers 4-years undergraduate program majoring in :
Accounting

Business

Ecconomics
IUP offers interests in Accounting Information System, Management Accounting, Financial Accounting, Finance, Marketing, Strategic Management, Human Resources Management, Management Information System, and Business Economics.
ADMISSION PERIOD
Admission Period of 1st Intake

Application Period

15 - 19 Jan 2018

Admission Test

23 - 24 Feb 2018

Result Notification

2 Maret 2018
ELIGIBILITIES
Senior High School (SMU) or equivalent (Graduates of 2017, 2016, 2015)

Indonesian High School qualification with good academic records

A – level qualification, IB qualification, or equal with Indonesian High School qualification

English Language proficiency, as indicated by TOEFL score of at least 525 (ITP) or 5.5 (IELTS) or 69 - 70 (IBT). Application whose score below the minimum requirement may be considered for enrollment based on probationary condition.

Good Academic capability, as indicated by score of Gadjah Mada Scholastic Test (GMST).